Last night, on the O'Reilly Factor,
Geraldo said
that in 35 years, he'd seen "a hell of a lot more combat than John Kerry." Back in April of 2003, CNN reported that
Geraldo was being kicked outta Baghdad
for divulging details of a future military operation. How did he do it, you ask?
He drew a fucking MAP in the sand!!!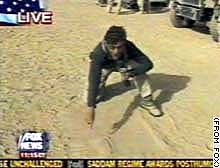 That's klassy-with-a-K, Rivera.